Legislative Watch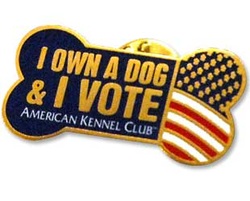 About 40% of Americans own a dog.
Article after article extols the virtues of owning a pet
. Pets help us to live longer, lower our blood pressure and have been proven to benefit and enrich our lives.
But did you realize that there are many organizations that want to strip us of our right to own and breed dogs?
And these are not just whacky fringe organizations like
PeTA
, it also includes one of the most influential, powerful lobbyist groups in America...HSUS -
Humane Society of the United States
.
We are being spoon feed erroneous information regarding pet overpopulation and euthanasia of shelter animals. We are being told not to buy from a breeder because of all the unwanted animals dying everyday. What this is doing is triggering an avalanche of states proposing Mandatory Spay Neuter laws, overly restrictive breeding laws and breed specific legislation. As these bills become laws, where will you get your next dog from? What if you want a purebred dog, where will you go to get one?
What can you do? Be aware of what New York state is proposing that will affect your right to own a dog. Contact your elected officials to oppose any bills that infringe on your rights as a dog owner and lover.
Here's a good place to start. The
AKC has a legislative alert system
that will keep you abreast of what's going on in the country. And here's a great link directly to the pending NY bills that would affect us!
Pending New York Legislation
Associated Dog Clubs of New York
---