About Us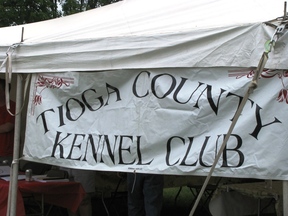 The
Tioga County Kennel Club is based out of beautiful, historic
Owego, NY
. Owego is the county seat for Tioga County, which is a rural area of the southern tier of NY. Situated on the Susquehanna River along Route 17, Owego is approximately 3 hours from Buffalo, 3 1/2 hours from NYC and 1 1/2 hours from Syracuse. And Owego was voted the
#1 Coolest Small Town in America
!
In December 1980, a group of nine local show exhibitors from the Apalachin, Owego, Vestal and Endicott areas of New York State felt there was a strong need for handling classes to keep their dogs from getting out of shape for the Spring point shows.
Handling classes in conformation and obedience were started at the Bonner Community Center and the Apalachin Elementary School. These classes were open for participation by members of the community.
Regular monthly meetings as a club began in January 1981. At this time, club officers and an advisory committee were appointed.
In April, a Constitution and By-laws were drawn up and adopted by the club members, based on the outline provided by the AKC for this specific purpose. An official election of all officers and board members, as defined by the by-laws, was held in May 1981. The Tioga County Kennel Club was "born."
In addition to the officers and board members defined in our constitution, the members of TCKC elected chairmen of several committees to organize and manage areas of special interest to the club. Although they have operating freedom within their mission and budget, committee chairmen are answerable to the club members for their actions. Committee chairmen are appointed each year.
A monthly newsletter also began in May 1981. It contained the official notices for the club's board and regular meetings. The newsletter is distributed to all members. Some copies were also left at points of interest in the area for distribution to the general public. In 1981 the club held several tattoo clinics at different locations in the area. There was also the club's first fun match held in May of that year. In July, 1991 TCKC became eligible to hold AKC B(OB) sanctioned matches.
We applied to hold an AKC sanctioned dog show in 1990 and have had a show every year since. In 2010 we joined forces with Susque-Nango Kennel Club to expand the show (now newly named the Hickories Circuit) to 3 days with great success. In 2014 we expanded to a 4 day circuit. The show originally started at the Hickories Park in Owego, but after severe flooding at the park in 2006 and 2011, we moved the show to the Apalachin Firemen's Field Day Grounds in Apalachin, NY. and it's still held there today.
Over the years we have proudly sponsored the Tioga County
K-9 unit, we've supplied Pet Oxygen Mask kits for Tioga and Broome County First responders, The Baker Institute for Canine Health and most recently supported the Southern Tier Police Canine Assoc.
---